What is COVID-19?
• A newly recognized coronavirus. Coronaviruses are a large family of viruses ranging from those that cause the common cold to viruses like SARS that are extremely severe
• The overwhelming majority of people who get COVID-19 will not have serious consequences
• Canada is focusing on protecting the most vulnerable in our communities
Who is at high-risk of COVID-19?
• Adults > 60 years old
• Individuals with diabetes, lung problems, heart conditions
• Individuals with immune deficiencies (e.g. cancer)
Who should be screened for COVID-19?
• Individuals who:
1. Have ANY of the following symptoms:
▪ Fever
▪ Cough
▪ Trouble Breathing
AND
2. Have returned from travel outside Canada in the last 14 days (or close contacts who have travelled in the last 14 days)
• These individuals should self-isolate at home and call the local public health unit for screening
What should I do if I believe I may have COVID-19?
• Mild symptoms (fever, cough)
o Stay home & self-isolate
o Online self-assessment tool
o Contact:
▪ Local public health unit
▪ Public Health Agency of Canada (COVID-19 line): 1-833-784-4397
▪ Telehealth ON: 1-866-797-0000
▪ Health Link AB: 8-1-1
• Severe symptoms (trouble breathing, exhausted – can't physically get out of bed, high prolonged fever not responding to acetaminophen, chest pain)
o Call 911
Should I self-isolate even if I don't have symptoms?
• All travellers returning to Canada from abroad, and their close contacts, should self-isolate for 14 days whether they have symptoms or not.
Where can I get tested for COVID-19?
• Because testing resources are limited and testing does not impact treatment or outcomes, only certain populations are now being tested. These populations are listed below. Others should call their local public health unit for screening over the phone or at an assessment center. Self-isolation instructions will be provided.
• Populations being testing:
o Individuals sick enough to be in the hospital
o Healthcare providers
o Indigenous people on reserve
What is social distancing and why is it being used? What is "flattening the curve"?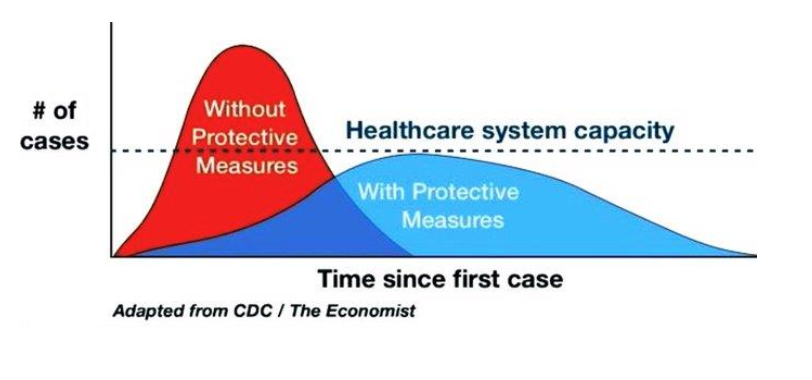 • It's a public health measure used to reduce and delay community spread of COVID-19
• By reducing the speed of the spread of COVID-19, we reduce the number of people sick at one time, which reduces the demand for healthcare resources (e.g. hospital beds, ventilators)
• Social distancing involves minimizing close contacts with others in the community. This includes self-isolation and community efforts (e.g. avoiding crowds, working from home).
Should I be wearing a mask?
• There's no benefit to wearing masks if you're healthy without symptoms. Masks are in short supply globally and this may reduce availability for healthcare workers who need them.
• Masks should only be used by people with symptoms, caregivers or close contacts of those with symptoms, healthcare providers when providing direct care for people with COVID-19.
What can I do to protect myself and those at-risk from COVID-19?
Prevention
• Wash hands often
• Avoid touching face
• Cough & sneeze into the sleeve
• Avoid gatherings
• Care for yourself & others
Self-Isolation
• Stay home
• Limit visitors
• Avoid contact with others
• Keep distance (2 meters)
• Cover cough & sneeze
• Wash hands often
• Wear a mask
• Do not share household items
• Clean regularly touched items
• Wash laundry
Symptoms
• Self-isolate
• Call public health unit
• Drink fluids until pee is clear
• Rest & stay home
• Very ill: hospital or call 911